Toy Fair 2008 is coming to a close and droid lovers everywhere should be pretty happy with the robot related toys in line for the coming year. As I mentioned before, the droid factory line will be a favorite for astromech lovers. Each 3 3/4" figure will include a different piece of a droid... when you collect all of the figures, you have all the pieces you need to put together a droid. Each wave has at least one unique, never released droid. In addition, the parts have universal connectors, meaning you can swap the different parts and customize as you see fit.
Wave one features figures from
Return of the Jedi
and 8 figures. Collect all eight to build
R4-D6 and R7-Z0.
Wave two features figures from the original Cartoon Network
Clone Wars
and will include the parts to build
R7-T1 and R4-J1
.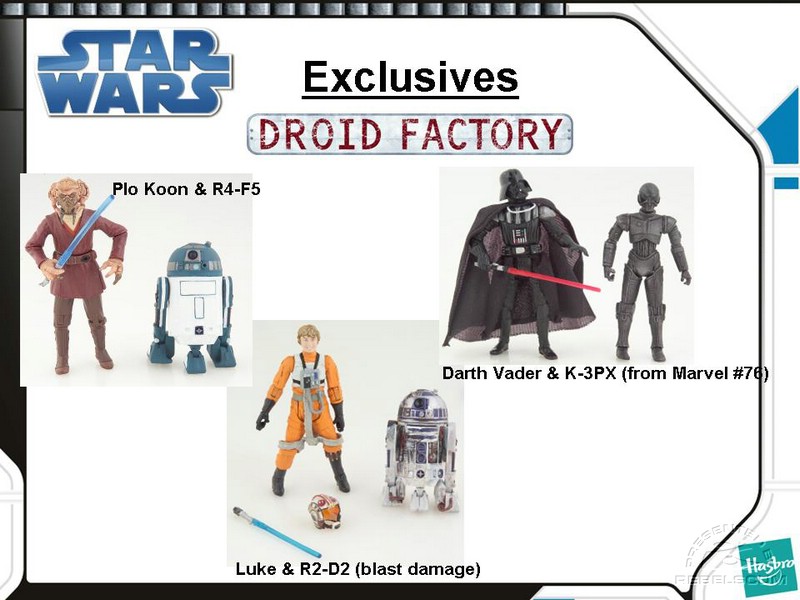 Wal-Mart will offer 6 different exclusive 2-packs that allow you to build
C-3PX
. These exclusives all feature a figure and droid. For example, one two pack will feature Jedi Master Plo Koon and his droid R4-F5, and a part you need to build C-3PX. In all there are tons of astromechs to be had in this line.
In addition to these classic figures, we will also get an R2-D2 from the animated
Clone Wars
series. Target will have an exclusive Asyla Secura Jedi Starfighter with droid, and even some Galatic heroes droids for the kids.
For all the updates on collecting, head over to
Rebelscum.com
now!